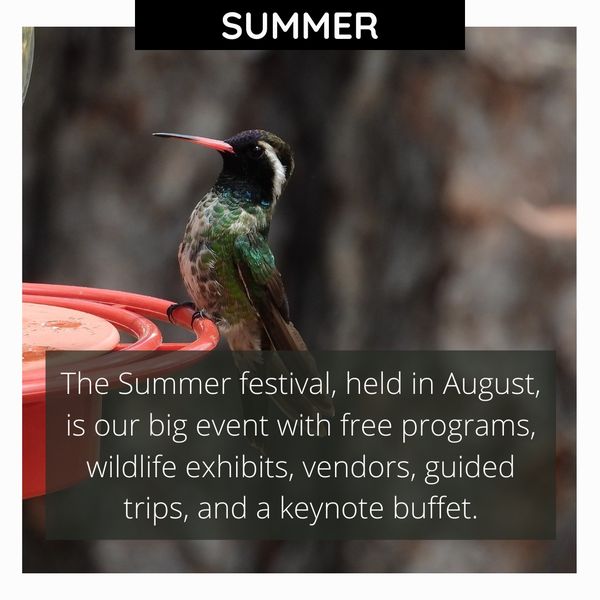 Southwest Wings Birding and Nature Summer Festival 2022!
WHO: Southwest Wings Birding and Nature Summer Festival 2022!
WHEN: August 3-6, 2022
WHERE: Sierra Vista, Arizona
Southwest Wings Birding and Nature Festival is Arizona's oldest birding festival. We began offering trips in 1991. This is the premiere nature festival in Arizona, consistently voted one of the top 5 birding and nature festivals in the country.
In May and Aug, Southwest Wings offers small group expertly guided trips to the many nearby birding hotspots in southeast Arizona. The main Summer festival held in August is our big event with free programs, wildlife exhibits, vendors, guided trips and a keynote buffet.
Southwest Wings is an educational celebration of the diversity of birds, mammals, reptiles, and insects, in their environment; the sky islands in southern Arizona. The unique confluence of three climate zones ensures that the species count is high and many are only found in this area of the United States. We average about 200 bird species each festival. Our high elevation location guarantees moderate temperatures during our field trips.
Price Range: $45-$475
For more information, contact Mari Cea.