Couple's Getaway to Kartchner Caverns & Benson
Start your adventure at Southern Arizona's Kartchner Caverns, then discover so much more in and around Benson
by Courtney Colaianni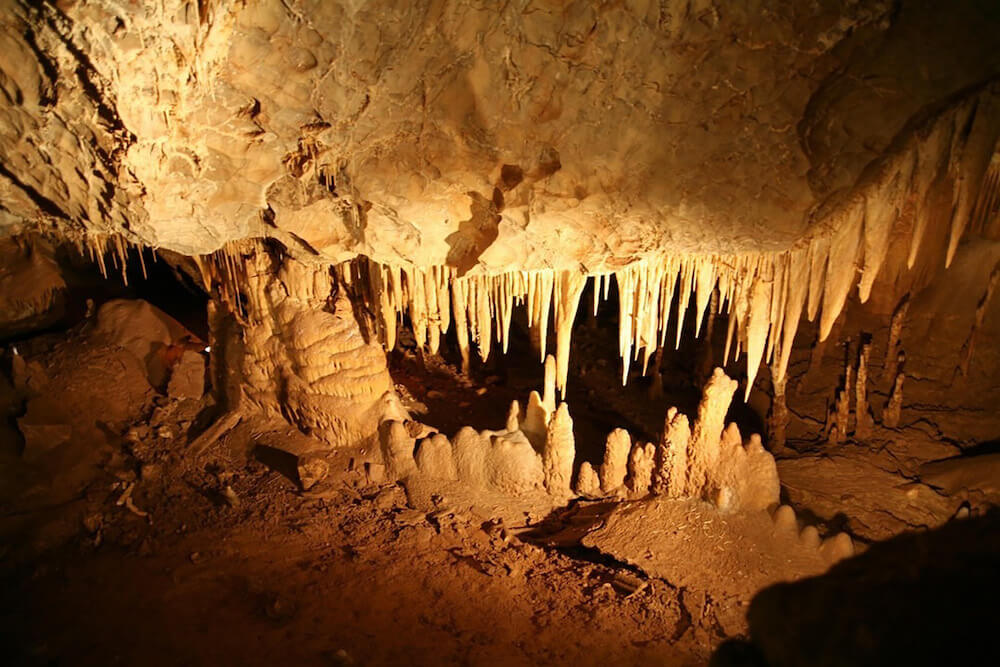 My husband, Marc, and I cleared our schedules for a few days so we could explore Southeastern Arizona. We chose Kartchner Caverns State Park south of Benson as the highlight of the trip but wanted to make it more than the daytrips we had done in the past. At 70 degrees year-round, the cave is a nice respite from the temps outside, especially in summer when we always recommend a daytrip to the caverns to friends who visit us in Tucson.
It's hard to believe that two University of Arizona students, who spelunked on the weekends for fun, discovered this magical place in 1974 and kept it a secret for four years until it could be protected by the Kartchner family (whose land the caves were on), and later turned into a state park. The wheelchair-accessible routes were carefully tunneled in the 1990s, following Gary Tenen and Randy Tufts' original footprints as much as possible to minimize the environmental impact of human touch on the cave walls and ground.
Going Back to Kartchner Caverns
Over the years we have taken the Rotunda/Throne Tour a few times, which reveals 45,000-year-old bat poop (which the kids in attendance always love) and fragile formations aptly named "soda straws," "popcorn" and "bacon." We have marveled at the 58-foot-high Kubla Khan column that culminates the tour with a light-and-sound show amid fantastic cave acoustics.
For this trip, since it was just the two of us, I registered for the Big Room Tour to see "fried egg" formations, which really do look like they belong on top of English muffins. And it was the first time we got the full story about the caverns' migratory bats. This specific tour is only open October through April because this area of the caverns is a maternity ward for mama bats — more than 1,000, in fact — during the summer.
And on this trip, we took time to linger. We spent time in the discovery center watching a short video of interviews with the two explorers and footage from the narrow passageways that eventually opened into expansive rooms. We learned how living, or "wet" caves, such as these, form at a hands-on hydrology exhibit.
We even grabbed a drink at the on-site café and strolled through the hummingbird garden — lush with local vegetation, such as fairy dusters, acacia trees and flowering cacti, plus birds and butterflies — just beyond the patio. With another amazing Kartchner tour in the books, we set out to explore more than we had on previous trips down this way.
Next Stop, Benson
We drove north toward Interstate 10 and Benson — founded in 1880 when the Southern Pacific Railroad used the town as a prime spot for transporting copper and silver from neighboring mining towns. Nowadays, Amtrak stops here three times weekly on its way to and from Chicago and Los Angeles.
We found Benson's cozy Mi Casa restaurant ideal for an authentic south-of-the-border dinner. We're from Tucson so we have our pick of authentic Mexican eateries, but it seems the cuisine gets even better the farther south you go. I couldn't resist the crisp, fat chimichanga while Marc ordered grilled shrimp tacos sided by tortillas that were cut and fried into iconic desert shapes like saguaros and coyotes. Too cute!
Our adobe abode for the night — a Western-furnished casita at Triangle T Ranch — offered such special touches as leather headboards and Native American rugs. We figured if we were going to turn a daytrip into an overnighter, might as well pick a room with some character.
In the morning, we rode on horseback around the 160-acre ranch, through tall grasses and sleeping granite boulders, flanked by the Dragoon Mountains. Our guide mentioned that the 1957 movie 3:10 to Yuma was filmed here; Westerns on the small screen, like Bonanza and Gunsmoke, were shot on location at the nearby, now-open-to-the-public Mescal movie set.
After our ride, we headed back into town to stop by the Benson Visitor Center to ask about the murals we had seen around town. We learned that Benson Clean & Beautiful commissioned artist Doug Quarles to illustrate the town's history — everything from railway workers to steam tractors to pack mules. The Murals of Benson guidebook, for purchase at the visitor center, highlights all 40-plus murals.
Not only is Benson's history as a railway hub reflected in its murals and iron horses that continue to pass through town, but also inside the visitor center, where guests can drive a scale-model locomotive via a replica control room — complete with knobs, levers and a camera mounted on the front of a single-track engine.
The trip really opened our eyes to how much more Southeastern Arizona has for visitors. When my parents visit next and ask if we can go to Kartchner Caverns State Park, the answer of course will be yes, but now followed by "let's make sure to stop in Benson, too, you will love it."
Plan Your Cochise County Getaway
Find more attractions in Benson, Gateway to the San Pedro Valley.