Photo Credit: Amanda Baillie
Cochise County has year-round attractions!
Cochise County has pleasant weather all year, a wide variety of activities and wide open spaces, and offers something for everyone from the solo traveler to families and groups.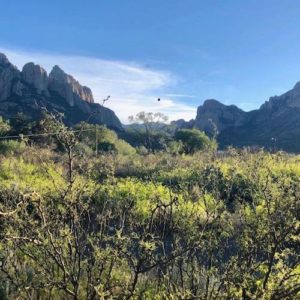 Visit Cochise County in the Springtime and explore attractions such as golfing, stargazing, climbing, hiking, wine tasting, and wildflowers.
Photo Credit: Amanda Baillie
Adventure into the beautiful scenery of Cochise County's wide-open spaces on a hiking trail or two. Discover the wonder of southeastern Arizona along mountain trails or scenic waterways. Trails offer enough versatility for novice to advanced hikers, so there is no need to be an elite athlete. Come prepared with sunscreen, water, and hat. Lace up your boots and head out for some great hiking.
Photo Credit: Amanda Baillie
GOLFING
Unlike courses in colder, wetter regions, Cochise County's golf courses are operational year-round. Though you have headed south, the temperatures are anywhere from 5 to 15 degrees cooler than those in the Phoenix Valley. Even on the hotter summer days, it is easy to get in a quick nine during the morning hours.
You may be struck by the landscape as desert golf showcases the surrounding natural landscape, in large contrast to the lush course greens. Local ocotillo, yucca, and even prickly pear make for great wildlife hiding spots. As you move along the course, you may see local birds with their migratory friends, and a fair share of rabbits and lizards, and maybe a coyote. Even if you are not much of a golfer now, you may change your mind as you see what the sport has to offer in the high deserts of Cochise County.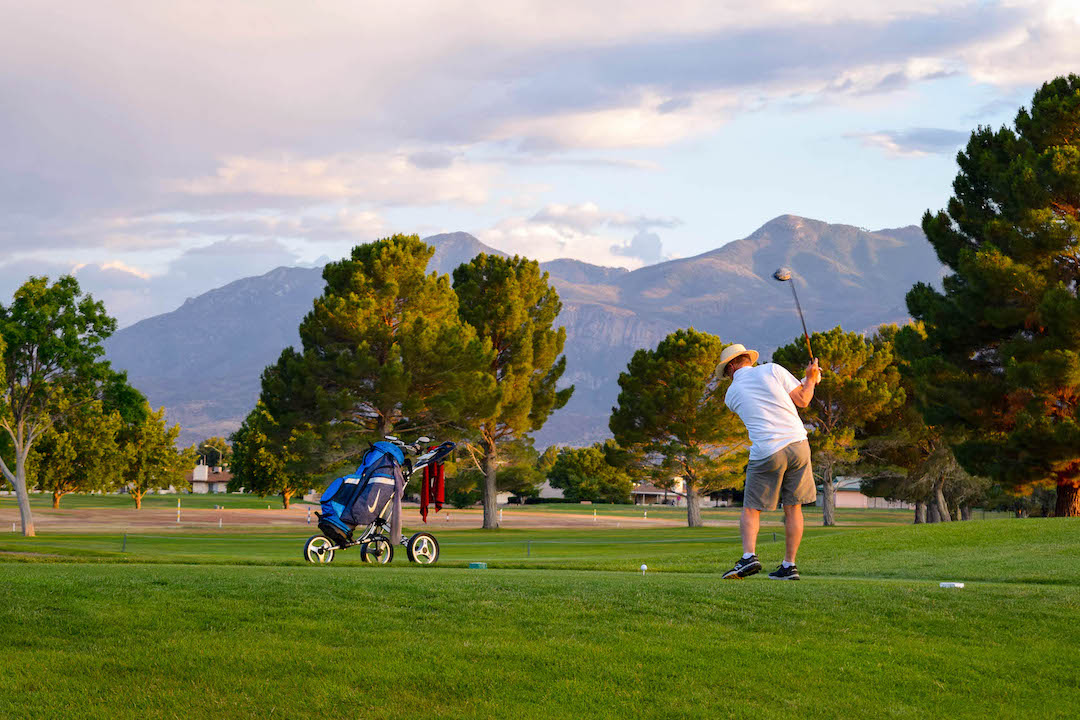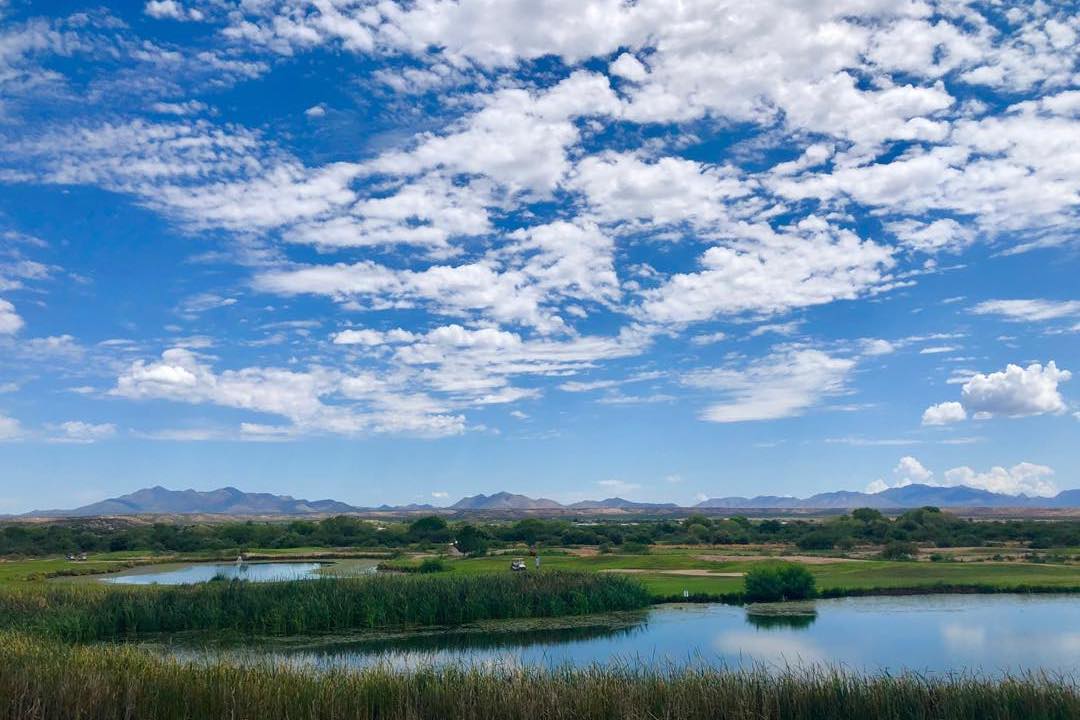 Photo Credit: (top) Amanda Baillie, (bottom) Amanda Baillie
STARGAZING
When you wish upon a star in Cochise County, it is just a different experience than in the light-clouded sphere of the city.
Cochise County, with comfortable temperatures year-round and clear skies free from city lights, is an ideal stargazing holiday. All it takes is looking up, at a tranquil area in Chiricahua National Monument or Kartchner Caverns State Park, or an off-the-beaten path camping spot, to fall in love with Cochise County's star-studded skies. Whether a novice stargazer or expert astronomer, Cochise County will take you on a galactic journey with some of Arizona's best astronomy.
CLIMBING
Climbing in Cochise County is most prevalent in the Dragoon Mountains and especially Cochise Stronghold. The Stronghold is a spectacular landscape of rugged canyons and towering granite domes. Cochise Stronghold has long had a reputation for very bold backcountry climbing. Today, there are also many, well-protected routes. Routes range from one to seven pitches in length and vary between 5.6 to 5.12 in difficulty. The Stronghold is an area of tremendous beauty and cultural significance. Treat it with due respect, and keep in mind that many other user groups enjoy the Stronghold as well. Those seeking traditional, multi-pitch climbing will have a special appreciation for climbing in the Dragoon Mountains.
WILDFLOWERS
Southeast Arizona wildflowers start to bloom in the spring. After the monsoons begin there is a plethora of colors starring in their own rainbow across Cochise County. The varieties of flowers are many. And, the blooming often starts with the cactus.
Cacti blooming as the nights warm up, include the reds from the Cane Cholla, pinks of Pincushion cacti, and yellows and oranges from the Prickly Pear – all brightening the high desert landscape. The Velvet Mesquite adds its whitish yellow flowers hanging from the branches. Whether hiking, biking, or walking, you will be delighted at the sight of new blooms. With the monsoons, Southeast Arizona wildflowers explode throughout the county. The ground will get enough rain to germinate last year's seed and will add many new red, orange, yellow, purple, and white flowers to the mix of green yucca, cacti, and ocotillo.
WINE TASTING
The Willcox Bench in southeast Arizona grows 74% of Arizona's wine grapes. This area is recognized as unique and distinctive wine growing region of the United States, so much so that it was recently granted AVA status (American Viticultural Area).
When you think of wine, you may not think of Arizona, but the elevation, climate, and soil in the Willcox Bench make for signature, medal-winning wines. Vineyards in this region are typically at 4,200 feet elevation and above, meaning vineyards are out of the low desert heat. Warm summer days and cool summer nights deliver a unique flavor to the grapes. Plus, Arizona has both summer and fall monsoon rain seasons, which provide another twist to the grape growing season. Finally, the rich alluvial and volcanic mixtures from the surrounding mountains are great for the grapes. Crush it up, and you have region wines with their own unique Arizona signature, standing tall among wines made anywhere in the world.
RESOURCES
Looking for more seasonal information? Check out the resources below.
| | | |
| --- | --- | --- |
| 1 | Visit Cochise County in the Wintertime and explore attractions such as festivals, Santa, mural walk, arts and culture, birding, and hiking. | Visit |
| 2 | Visit Cochise County in the Summertime and explore attractions such as caverns, mines, mountain biking, birding, museums, and water recreation. | Visit |
| 3 | Visit Cochise County in the Fall and explore attractions such as festivals, western lifestyle, wine tasting, farms and produce, cycling, and leaf peeping. | Visit |
STAY CONNECTED
Sign up for the Explore Cochise Newsletter for year-round ideas.
GET YOUR FREE ATTRACTIONS MAP
You can download or we'll mail you a FREE Explore Cochise Attractions Map to help you plan your next trip to Cochise County.