Cochise County has year-round attractions!
Cochise County has pleasant weather all year, a wide variety of activities and wide open spaces, and offers something for everyone from the solo traveler to families and groups.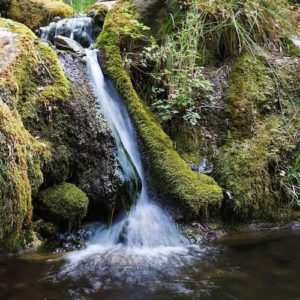 Visit Cochise County in the Summertime and explore attractions such as caverns, mines, mountain biking, birding, museums, and water recreation.
Mountain biking and Cochise County are like a match made in biker's heaven. Cochise County's high desert is home to large mountains, vast desert trails, expansive blue skies, and gorgeous views. Even with that information, it may be an incredibly awe-inspiring experience to mountain bikers who try the County's diverse terrain for the first time. Whether tackling the beginning of "the" Arizona Trail or traipsing through Brown Canyon Ranch, Cochise County mountain biking features an intense interaction with nature and a fantastic range of difficulty.
HEAD UNDERGROUND
Kartchner Caverns (Benson) – Find stunning living caverns and exhibits with scientific information explaining how these caves were formed. Learn about the bats that make their home here, and how the many huge stalactites and stalagmites are formed. And see why Kartchner Caverns is truly an underground phenomenon unlike any other. This living cave has been voted "Number One Arizona Attraction" and "Best Cave in the U.S." by USA Today Reader's Choice Awards. The average temperature inside Kartchner Caverns is about 70 degrees. Insulated by layers of earth, caves are naturally cooler. Many different cave formations can be found within the caves, like cave bacon, helictites, soda straws, and others. Formations like the stalactites and stalagmites grow approximately a 16th of an inch every 100 years.
Queen Mine (Bisbee) – Bisbee has been one of the greatest copper camps the world has ever known. In almost 100 years of continuous production – before closing in 1975 – the local mines produced $6.1 billion in metals (at 1975 prices). This is one of the largest production valuations of all the mining districts in the world. Outfitted in hard hat, miner's headlamp and a yellow slicker, thousands of Bisbee visitors ride into the Queen Mine Tour each year—heading underground and back in time. Tour guides are retired Phelps Dodge employees that lead the group 1,500 feet into the mine and recount mining mechanics, techniques, and dangers. Adding a personal touch, the miner-turned-tour guides help visitors experience what it was like to work underground. Today's tours require reservations, face coverings, closed toe shoes, and low-heeled shoes.
Southern Arizona has some of the best bird watching in the world. People come from all over to see many rare species found in few other places. With some of the most diverse landscapes in Arizona, Cochise County is home to more than 400 species of birds. It is no surprise the American Birding Association has called it the "Birdiest Inland County in the United States."
Cochise County was created on February 1, 1881, when it was annexed out of the eastern portion of Pima County. It takes its name from the legendary Chiricahua Apache Chief Cochise. The first county seat was Tombstone until 1929, when it was moved to Bisbee. Cochise County consists of 6,219 square miles. To say that Cochise County is rich in history is an understatement. From the Paleo-Indians to the Spanish explorers, from the Mexican settlers to the Chiricahua Apaches, from the early Anglo pioneers to the vibrant citizens of today, Cochise County history is vast. Fortunately, there are many amazing museums that work hard to secure and maintain exhibits sharing Cochise County's historic past.
PARKER CANYON LAKE
Ready for the water? This medium-sized 132-acre lake is located in the Canelo Hills west of the Huachuca Mountains. It offers many recreational possibilities.
The Parker Lakeshore Trail offers excellent vantage points to enjoy ducks and other waterfowl bobbing on the lake's clear waters. Bald eagles and osprey are regular visitors, as are spring warblers and hummingbirds in season. Coues whitetail deer, coatimundi, javelina, and roadrunners are often seen browsing around the lake.
There is parking for vehicles, motor homes, and boat trailers, plus two camping grounds. For those who like to fish, Parker Canyon Lake offers both cold and warm water species, including stocked rainbow trout and resident bass, sunfish, and catfish. To make landing those wily flippers easier, there is a fishing pier and a paved boat ramp at the lake, as well as a lakeside paved area and a graveled path along some of the best catfishing shoreline.
Parker Canyon Lake Marina – located at the lakeshore – is stocked with last minute supplies, boat and kayak rentals, fishing licenses, camping and fishing gear, and snacks.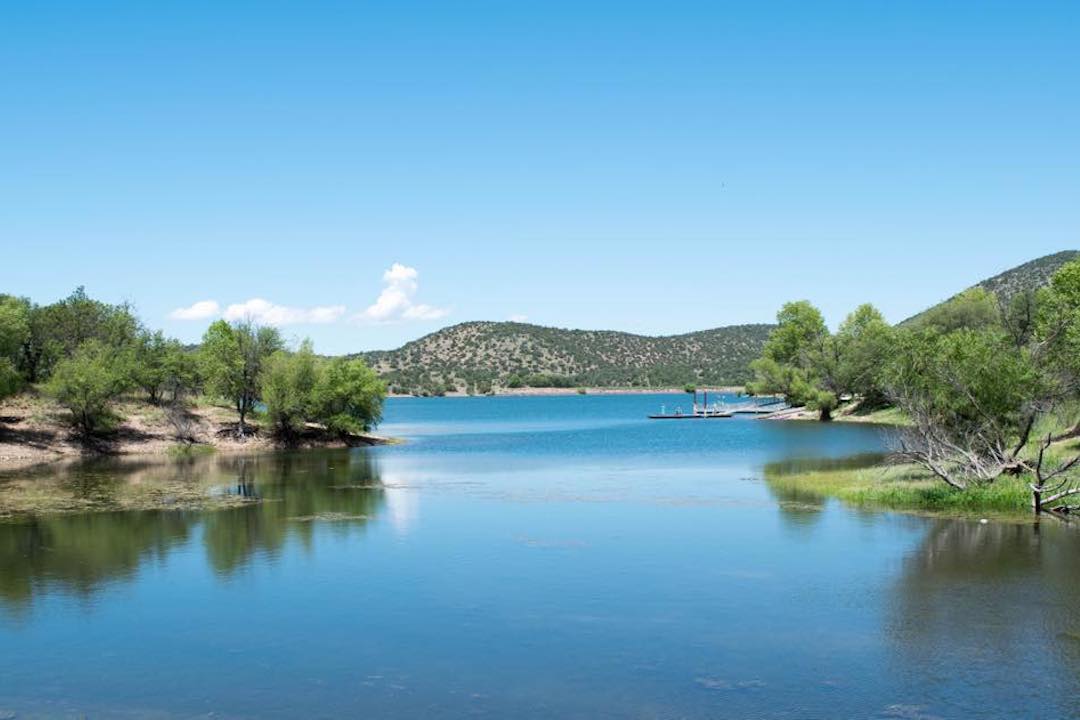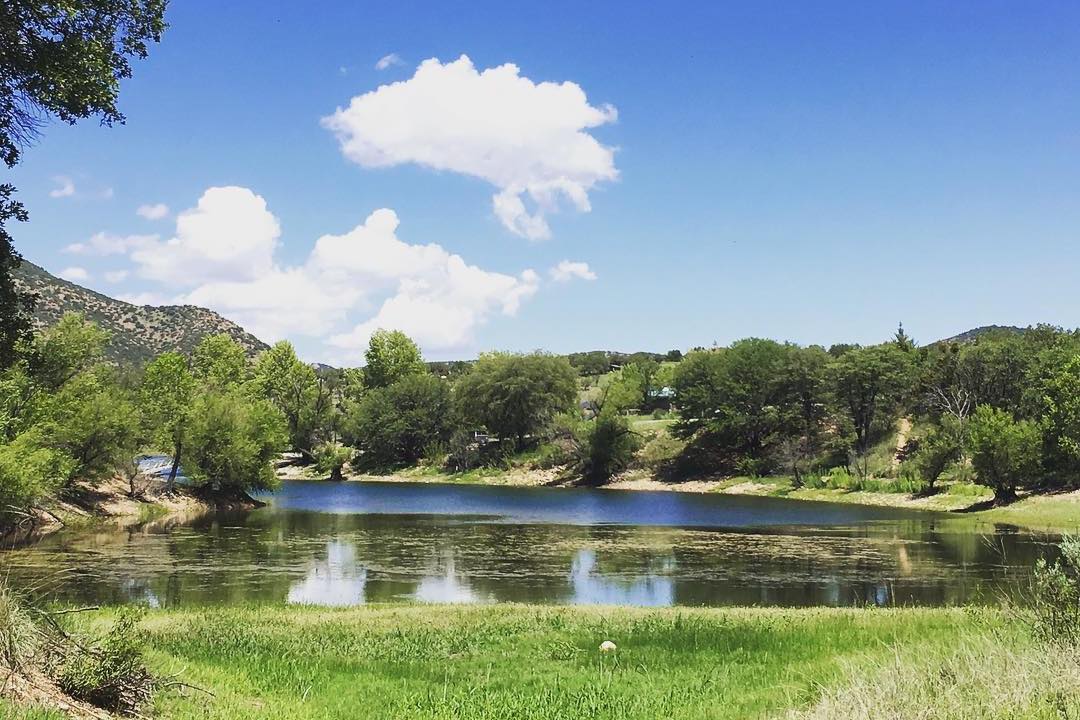 Photo Credit: (top) Amanda Baillie, (bottom) Amanda Baillie
RESOURCES
Looking for more seasonal information? Check out the resources below.
| | | |
| --- | --- | --- |
| 1 | Visit Cochise County in the Springtime and explore attractions such as golfing, stargazing, climbing, hiking, wine tasting, and wildflowers. | Visit |
| 2 | Visit Cochise County in the Fall and explore attractions such as festivals, western lifestyle, wine tasting, farms and produce, cycling, and leaf peeping. | Visit |
| 3 | Visit Cochise County in the Wintertime and explore attractions such as festivals, Santa, mural walk, arts and culture, birding, and hiking | Visit |
STAY CONNECTED
Sign up for the Explore Cochise Newsletter for year-round ideas.
GET YOUR FREE ATTRACTIONS MAP
You can download or we'll mail you a FREE Explore Cochise Attractions Map to help you plan your next trip to Cochise County.