The Queen of Copper: Touring Bisbee's Copper Queen Mine
Learn how Bisbee was once one of the largest copper camps in the world, then explore this bustling mining town turned artists' enclave.
by Courtney Colaianni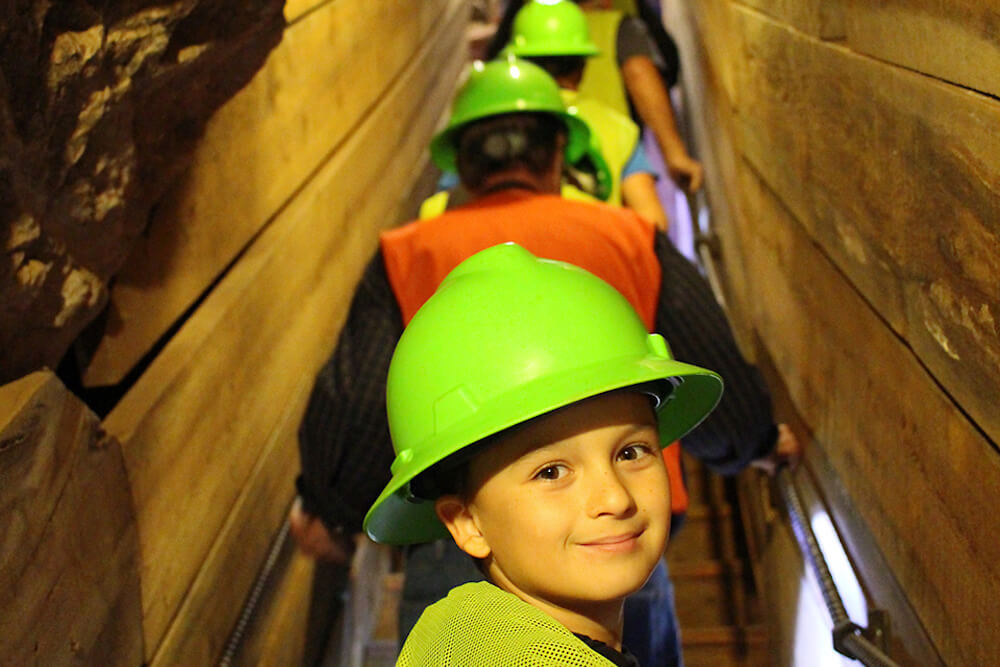 Miraculously, I got my nine-year-old son to unplug from his computer last weekend when I promised him a real-life mine experience better than Minecraft. Okay, I may have stretched the truth a teeny bit — there weren't going to be creepers and we didn't have to kill zombies — but touring Bisbee's Copper Queen Mine was an amazing experience that even impressed Vincent, and made him appreciate this true-to-life, dangerous profession.
Bisbee's Glory Days
For nearly a century (1880–1975), miners toiled beneath the Mule Mountains to meet the demand for rich copper ore, which was especially valuable during the rapid expansion of electricity. The Copper Queen Mine became one of the greatest copper camps in the world, also producing such precious metals as gold, silver, zinc and lead — valued at $6.1 billion some 50 years ago.
To get a taste of the town's role in U.S. history, we started at the Bisbee Mining & Historical Museum, which has many hands-on exhibits for kids. Vincent quickly got an understanding of what miners had to go through back in the day: working in near darkness, inhaling poisonous fumes and not knowing if walls would collapse on them as they traversed narrow passageways.
Vincent sat at a foreman's desk and pretended to check timecards. Natalie, my preschool daughter, used an old-time phone and climbed in a larger-than-life dump truck tire. We saw vignettes of miners wearing suspenders and hard hats, holding pickaxes and hunching over piled up rocks in rusted wheelbarrows. Outside, the kids took their roles seriously, posing next to minecarts as they surveyed the land.
Mines, Mines Everywhere
On our way to lunch at the Bisbee Breakfast Club in Lowell (just outside of Bisbee), we drove past the former Lavender Pit Mine. We pulled over to look at the open copper pit mine, which also produced unique Bisbee Blue turquoise. Lowell was a busier town in the 1950s when the mine opened. Now it contains a few businesses along its mid-century main street and a cool vintage gas station.
At the restaurant, I ordered my Southwestern standard: huevos rancheros. Their version had crispy tortillas layered between beans, cheese, eggs and sauce, which made all the difference. The kids loaded up on pancakes and French toast, while Marc, my husband, went for the chicken salad seasoned with a coffee-spice blend and fried artichokes.
Into the Queen Copper Mine
When I purchased our tour tickets online, I noticed that children must be at least six years old, so for our final adventure of the day we divided and conquered. Vincent and I walked to the Copper Queen Mine while Marc and Natalie headed off to search Bisbee for an ice cream shop.
Vincent and I checked in next to the gift shop full of sparkling gems and geodes, then donned our required safety equipment — florescent vest, hard hat and head lamp — and hitched a ride aboard a single-file train into the dark, cold confines of the Copper Queen Mine. Retired Phelps Dodge employees shared behind-the-scenes tales of their work underground as they demonstrated tools of the trade and told stories of the miners before them who chipped away at walls via candlelight. We passed abandoned minecarts and chained-off shafts as we chugged deeper into the mine.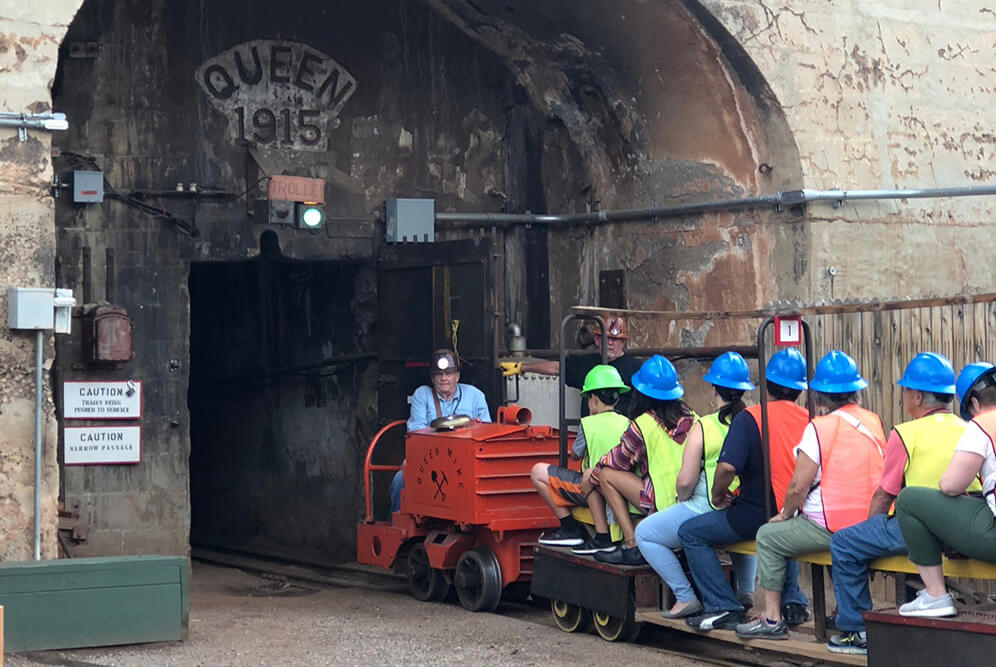 Back Up Top
After our tour deep underground, it didn't take long to find Marc and Natalie exploring the historic Brewery Gulch district. Once filled with lively saloons and dance halls, today it still touts some of the most colorful drinkeries in the Southwest but also family-friendly restaurants and cafés. They told us about a cool outdoor community art gallery they found while ascending one of Bisbee's many staircases built into the hillsides. Natalie mentioned the children's room in what turned out to be the oldest continuously open library in Arizona, Bisbee's Copper Queen Library. And much to our delight, they found a gelato shop but waited for us to finish the tour before getting a treat.
As we strolled back to the car to head back to Tucson, I plied the kids with things I had learned while researching our day trip. There's a weekly farmers market that sells arts and crafts, and many annual events celebrate Bisbee's fascinating mining past and its modern creative community. I started to rattle off a few that I remembered — Bisbee Blues Festival, Brewery Gulch Daze, Bisbee Chocolate Tasting — and Natalie stopped me at Chocolate. Yes, that's when we'll come back to Bisbee. For chocolate. As for Vincent? He concluded that playing Minecraft in his underwear beats the treacherous real-life work of being a miner.
More to See
Attractions in Bisbee range from historic and quirky to artistic and flavorful. Find more things to do in Bisbee.