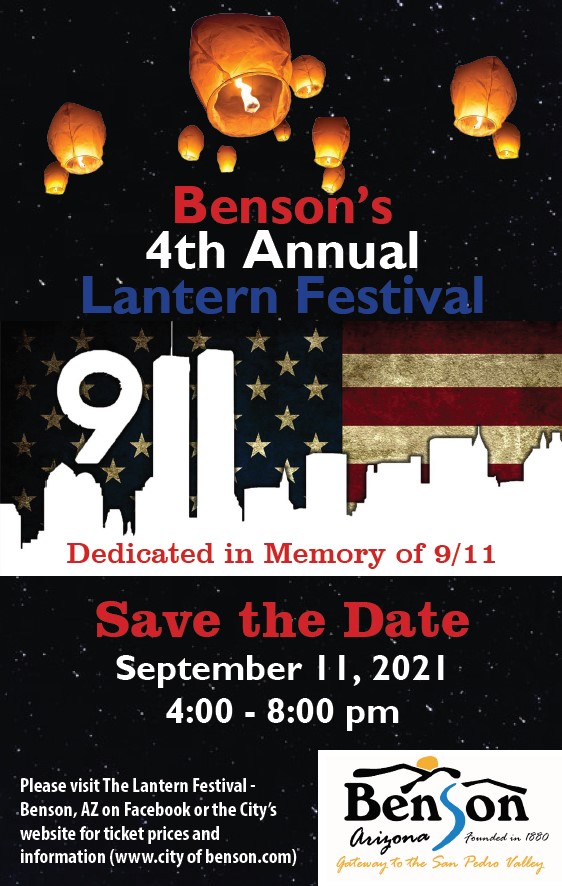 4th Annual Lantern Festival
WHO: 4th Annual Lantern Festival
WHEN: September 11, 2021
WHERE: Benson, Arizona
On September 11, 2021 we will come together for an incredible experience you won't want to miss! The Lantern Festival brings individuals of all ages (free entry for ages 5 & under), backgrounds and walks of life together for one awe-inspiring evening.
There will be music, dancing, merchandise and food & beverage vendors, and a great (free) Kids Zone! When the time is just right, we will light the sky with our highest hopes, deepest desires, and fondest memories. Mark milestones, set goals or celebrate the life of a loved one in Heaven.
This year's event happens to coincide with Patriot's Day and the 20-year commemoration of September 11, 2001; therefore, the 4th Annual Lantern Festival will be dedicated in memory of those who perished in the attacks and in honor of the first responders who selflessly put their own lives at risk to respond to the scenes of the World Trade Center, Pentagon, and Somerset County, Pennsylvania.
Cost is $17-65.
Click here to download the event flyer.
For more information, contact Mandy Konrad.