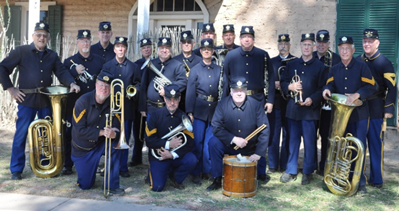 1880s Historic Grand Ball
WHO: 1880s Historic Grand Ball
WHEN: March 5, 2022
WHERE: 70 E. Patton (Hwy 80), St. David, Arizona 85630
Travel back in time and enjoy the sights and sounds of an Old West Military Ball. The annual 1880s Historic Grand Ball is a popular event for all ages, with live music provided by the 4th Cavalry Regimental Band of Ft. Lowell, Arizona Territory. Dance to authentic music with easy dance instruction by prompter Jessica Lacy. Period dress is enjoyed, but not required.
Admission includes period refreshments. Also available: sarsaparilla and photo set. Adults: $10; Youth: $5.
Sponsored by St. David Heritage Society, Apache Nitrogen Products, Arizona's G&T Cooperatives, and St. David Schools.
Proceeds benefit St. David Schools' Historic Auditorium Rehabilitation Project.
For information: www.saintdavidheritage.org or Facebook: St. David Heritage & Cultural Arts Society.
For more information, contact Sue Kartchner.