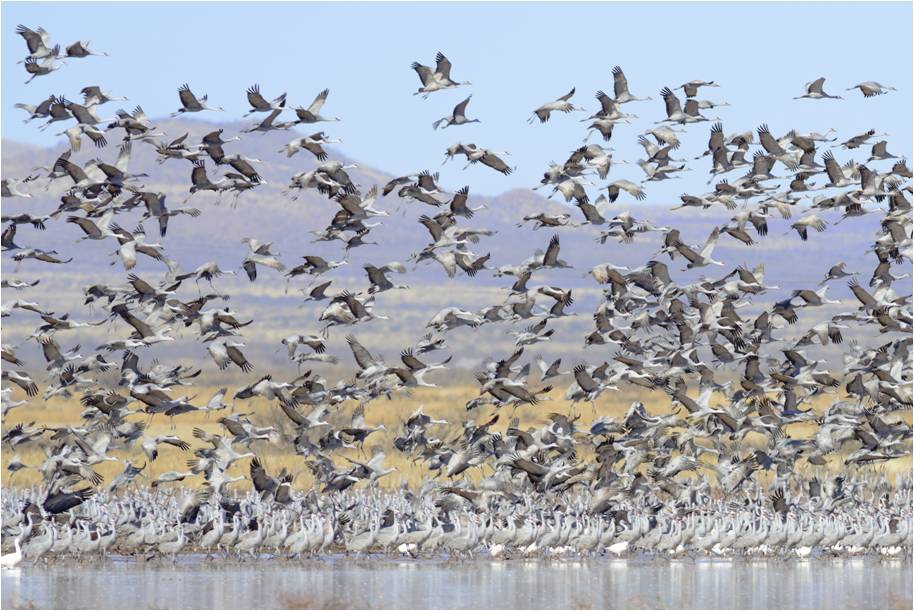 Wings Over Willcox 2021 Offers "Hybrid" Tours, Online Presentations and More!
WHO: Wings Over Willcox 2021 Offers "Hybrid" Tours, Online Presentations and More!
WHEN: January 15-16, 2021
WHERE: Hybrid
The Willcox Nature Association was determined not to cancel the 28th Annual Wings Over Willcox Birding and Nature Festival and, instead, has found several covid-safe alternatives to its popular, in-person event.
"We're calling this a hybrid birding festival," said WOW festival chair Homer Hansen. "It will be a combination of live tours and activities as well as online presentations. This will give those who are not traveling due to coronavirus precautions an opportunity to at least participate online while those who are already here or planning to visit Arizona in January can attend guided tours." Those tours will be small to allow social distancing and masks will be required. In fact, festival facemasks are already being designed with cranes and other birds!
The festival will take place on January 15 & 16, with a combination of guided birding walks at Cochise Lake in Willcox as well as the Arizona Game and Fish Department's Whitewater Draw Wildlife Area near Elfrida. Self-drive, small-group tours (8 or less) to a variety of locations including Chiricahua National Monument, Portal, and other popular birding areas will also be offered. Online webinars will be offered both Friday and Saturday, including a featured presentation by internationally known author and world birding guide Rick Wright.
The slate of activities will cover two days of the Martin Luther King weekend. Another key difference from past WOW festivals will be the absence of the Nature Expo at the Willcox Community Center. In its place, an educational exhibit will be set up at Whitewater Draw. The exhibit will be open throughout the day, allowing people to visit on their own schedules. Food trucks will be available near Cochise Lake for breakfast and lunch. Times will be posted for guided walks in both areas.
For those who want to see a sunrise crane flight and not endure the chilly weather or early-morning drive to the site, there will be opportunities to watch online. A variety of educational webinars will also be offered online. Festival registrants will be given an access code to log in and watch live broadcasts; pre-recorded talks can be viewed by festival participants at any time during the weekend.
The Willcox Nature Association feels that they have developed a great alternative to their usual in-person festival that will ensure birder and guide safety. It will keep the festival alive and thriving until the 2022 festival can return to its full spectrum of activities.
For more information, visit www.wingsoverwillcox.com, email info@wingsoverwillcox.com
or call 520-384-2874