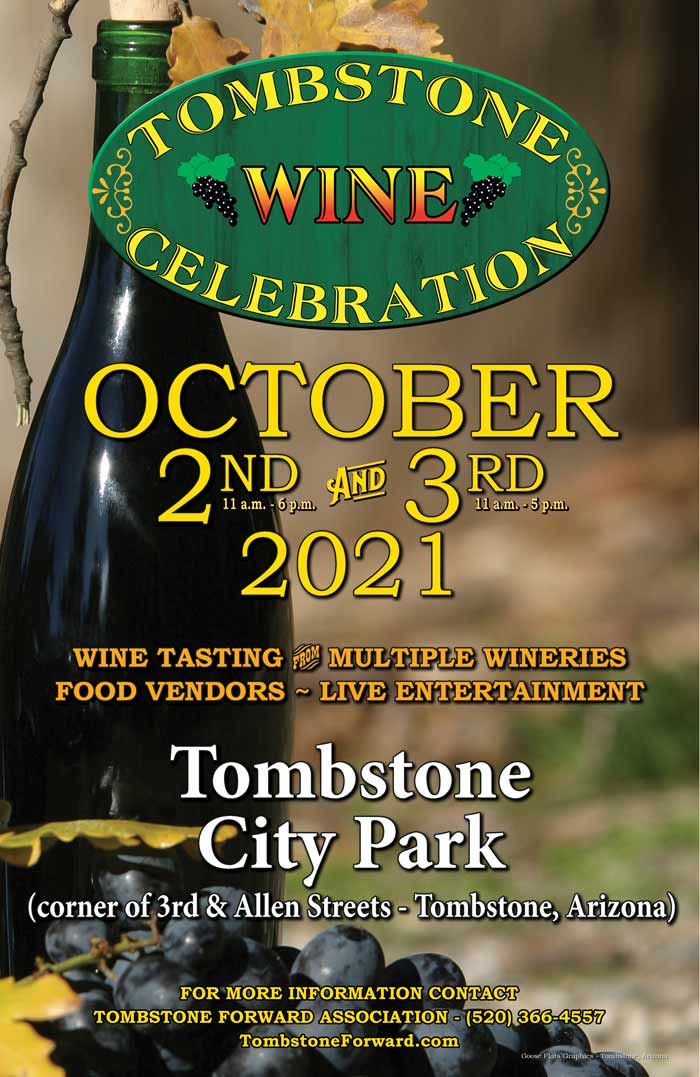 Tombstone Wine Celebration
WHO: Tombstone Wine Celebration
WHEN: October 2-3, 2021
WHERE: Tombstone, Arizona
Tombstone Wine Celebration
October 2 @ 11:00 am – October 3 @ 4:00 pm $15
Join us in the Tombstone City Park on the corner of historic Allen street and 3rd streets. You will enjoy offerings from several Cochise county wineries and Tombstone food stands while listening to live entertainment.
Cost is $15 per person and proof of age 21+ must be presented to obtain a wristband. Wine glass and 5 tickets for 1 oz. pours of your choice of wines.
Questions? Call Tombstone Forward at (520) 366-4557
The Tombstone Wine Celebration will be in the Tombstone City Park (corner of 3rd Street and Allen Street) and is sponsored by Tombstone Forward. The Celebration will take place on October 2 & 3, 2021 from 11am to 5pm on April 2nd and 11am to 4pm on April 3rd. Tickets are available at the entrance for $15. You will get a commemorative wine glass and 5 wine sampling tickets. An additional 5 sampling tickets can be purchased for only $10. Must be 21 years of age
For more information, contact Sunny Quatchon.