Go West in Cochise County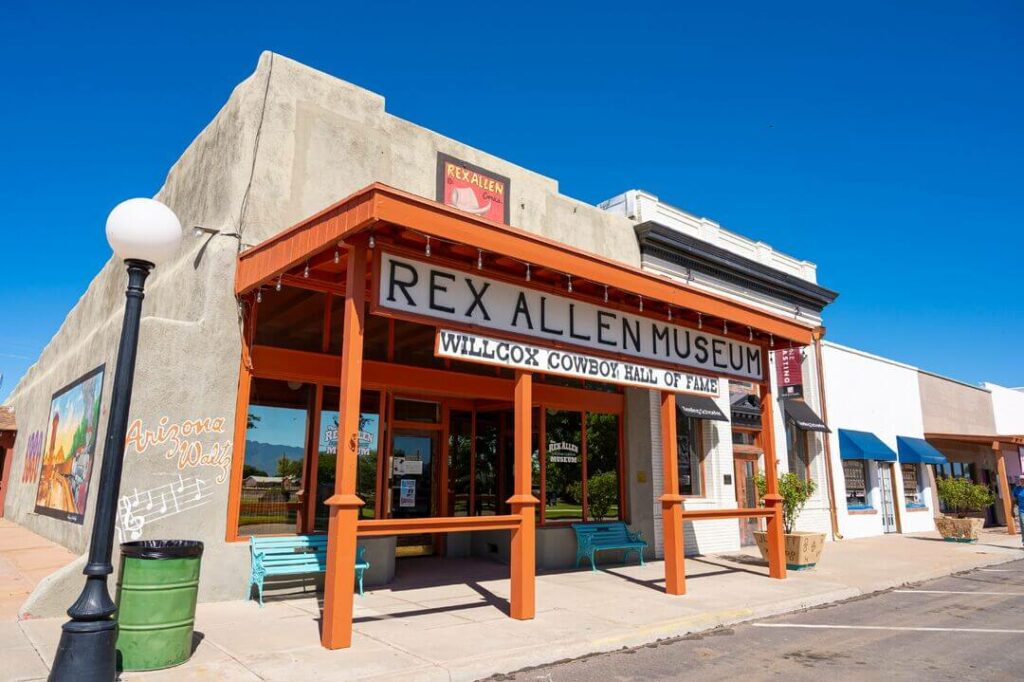 Immerse yourself in Cochise County's historic wild west attractions — from the historic mines and buildings preserved from Bisbee's heyday to historic hotels and ranches in Douglas and Sierra Vista. In Tombstone — "The Town Too Tough To Die"— discover the region's Western roots with dusty streets, horse-drawn carriages and gunfight reenactments. Willcox was known as the "Cattle Capital of the World," and visitors today get a taste of that with homegrown steakhouses, tours of a pioneer homestead and a museum dedicated to America's favorite singing cowboy. Book a horseback ride while you are here, or just order up a full plate of ribs and pull on some cowboy boots for a step back in time.
Day 1
1. Douglas: Attraction: John Slaughter Ranch
Lawman John Slaughter encountered Pancho Villa at his San Bernardino Ranch — a National Historic Landmark outside Douglas — and helped track Apache Chief Geronimo during time as Cochise County Sheriff. Visitors today tour the grounds and adobe house at John Slaughter Ranch.
2. Douglas: Lunch: Gadsden Hotel
The century-old Gadsden Hotel in Douglas — once a meeting place for cattlemen, ranchers, and miners — features a grand lobby with a Tiffany-inspired stained-glass mural and a marble staircase that Pancho Villa supposedly rode his horse up. (There is even a chip to prove it.) Sidle up to the bar at Saddle & Spur Tavern and Café 33 for a round of burgers and south-of-the-border favorites for lunch.
3. Bisbee: Attraction: Queen Mine Tour
Go deep underground on this tour popular with families and history buffs. The Queen Mine put Bisbee on the map with its wealth of copper ore and other metals. The abandoned mine today gives visitors a glimpse into the difficult and dangerous work required to bring them to the surface.
4. Bisbee: Attraction: Mining & Historical Museum
Continue your exploration of Bisbee's colorful origin story at this Smithsonian-affiliated Museum. See a century and a half of history on display, including periods when Bisbee was the largest U.S. city between St. Louis and San Francisco and its current status as a charming artist enclave.
5. Bisbee: Dinner: Contessa's Cantina
Cochise County shares a border with Mexico and has a long-standing appreciation for the cultural traditions of our neighbors to the south. At Contessa's, join locals and visitors for authentic dishes plus margaritas made with the very best tequilas from Mexico.
6. Sierra Vista: Hotel: Ramsey Canyon Inn
Head to Sierra Vista for the night. Stay at Ramsey Canyon Inn — adjacent to The Nature Conservancy's Ramsey Canyon Preserve, a haven for birders. The European-style rooms offer magnificent wildlife viewing — from deer to coatimundi and up to 14 species of hummingbirds. Sierra Vista is known as the "Hummingbird Capital of the United States." Overnight stays include a free gourmet breakfast.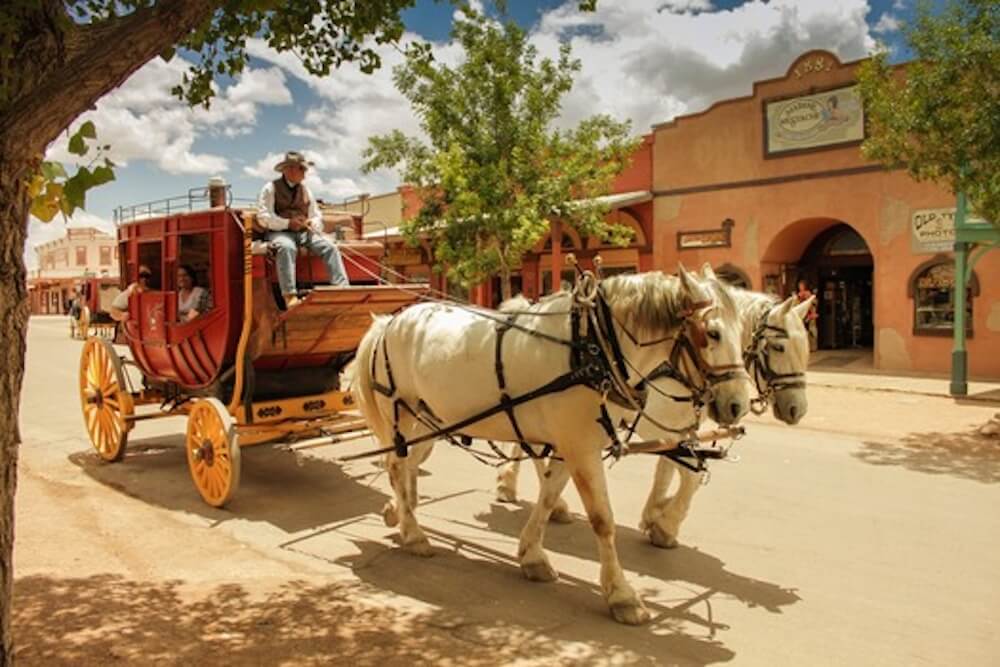 Day 2
1. Sierra Vista: Lunch: La Casita Mexican Restaurant & Cantina
After a morning stroll through the Preserve, savor authentic Mexican delicacies from this local, family-owned restaurant serving Sierra Vista for over 30 years. The Tierra y Mar (Surf and Turf) features a charbroiled New York Strip smothered in grilled onions and pepper jack paired with succulent grilled shrimp. Finish off your meal with a plate of chocolate chimichangas.
2. Sierra Vista: Attraction: Brown Canyon Ranch
Visit an adobe ranch house, storeroom, corral, windmill, and tree-lined pond at Brown Canyon Ranch, which was first occupied in 1800. This historic site near Sierra Vista is part of Coronado National Forest and offers easy access to nearby trails and a nature loop.
3. Sierra Vista: Attraction: Arizona Folklore Preserve
Catch the acoustic stylings of western and folk music, plus poetry and stories, during weekend afternoons at the Arizona Folklore Preserve near Sierra Vista. Dolan Ellis, Arizona's Official State Balladeer, and founder of this creative space in Ramsey Canyon, performs once a month.
4. Tombstone: Hotel: Tombstone Monument Ranch
Settle in for the night in Tombstone. Each guestroom at this Old West-themed property is uniquely decorated with period furnishings. For an authentic cowboy experience at Tombstone Monument Ranch, visitors can corral cattle, go Western-style shooting, horseback ride and enjoy a chuckwagon breakfast.
Day 3
1. Tombstone: Attraction: Boot Hill Graveyard
Walk through Boot Hill Graveyard, Tombstone's first cemetery established in 1879. See if you can spot the burial grounds of the three cowboys killed at the OK Corral, as well as marked graves of other outlaws shot, stabbed and "legally hanged."
2. Tombstone: Lunch: Big Nose Kate's
Belly up to the original 1880s bar at Big Nose Kate's Saloon for lunch; it was formerly a hotel frequented by Shady Ladies, gamblers and gunslingers. Watch for the resident ghost, "Swamper," as you order from the expansive menu and listen to live music.
3. Tombstone: Attraction: OK Corral
The "The Town Too Tough To Die" lives up to its lawless reputation with daily reenactments of the Gunfight at the OK Corral. More than 30 shots were fired in 30 seconds during the clash between the Earp brothers, Doc Holliday, the Clantons and the McLaurys.
4. Willcox: Attraction: Old Pioneer Cemetery
Just beyond downtown Willcox sits OId Pioneer Cemetery, a desolate site interspersed with wooden grave markers from the late 19th and early 20th centuries. The most impressive tombstone is Warren Earp's, who was shot and killed during an argument at the Headquarter Saloon – now the site of a wine tasting room. (Willcox grows 75% of Arizona's wine grapes and has 13 wine tasting rooms within 30 minutes of its downtown.)
5. Willcox: Accommodation: KOA Cabin
Drive through the rolling grasslands of Cochise County to set up "camp" in Willcox for the night. The local KOA rents comfy cabins adjacent to a clubhouse and swimming pool in the heart of Arizona wine country. Fuel up the next morning at Road Runner Kafe before heading to the Chiricahuas.
Day 4
1. Willcox: Attraction: Chiricahua National Monument
A "Wonderland of Rocks" — hoodoos, balancing boulders and other unique formations — make up Chiricahua National Monument, but visitors also come here for Faraway Ranch, one of the area's original pioneer homesteads. Wander the property past the ranch house, barn, tack room and other historic outbuildings.
2. Willcox: Lunch: Big Tex Bar-B-Que
Big Tex Bar-B-Que's sweet and smoky sauce atop beef and brisket hits the spot for lunch. Loaded baked potatoes are stuffed with smoked chicken or pulled pork, and you are on vacation so a slice of pie for dessert makes perfect sense.
3. Willcox: Attraction: Rex Allen Museum
A celebration of "Arizona's Cowboy" takes place every fall during Rex Allen Days with a concert, parade and rodeo. You can learn more about the "last of the singing cowboys" at the Rex Allen Museum, with memorabilia from Allen's time starring in western movies and TV shows. Visit the museum on Tuesdays 10 a.m.–1 p.m. and enjoy live music.
4. Willcox: Dinner: Isabel's South of the Border
Wrap up your epic tour of Cochise County's historic Western sites with an authentic Mexican meal at Isabel's, where the carne asada gets its kick from green chiles and the carnitas burritos take both hands and a stack of napkins to eat.
5. Willcox: Hotel: Triangle T Ranch
The Western-style casitas at Triangle T Ranch, on 160 acres southwest of Willcox, provide guests a sense life on the range with a hot ranch breakfast each morning. Take advantage of the on-site horseback riding, biking, and hiking trails.